Democrats controlled the redistricting process in Arkansas during the most recent round of apportionment, but unfortunately passed a map that is likely to lead to Republicans holding all 4 of the state's districts after 2012. If local Dems had been wiser they wouldn't have tried to win 3 districts and would have settled on a safe 2-2 split, which I have drawn here. Furthermore, Arkansas does not have have precinct level partisan data, but the state until recently did not split counties which makes partisan map-making much easier. All districts are within 1% of the ideal population target and the races I used were 2000, 2004, and 2008 presidential, as well as the Senate, Lt. Gov., SOS races from 2010.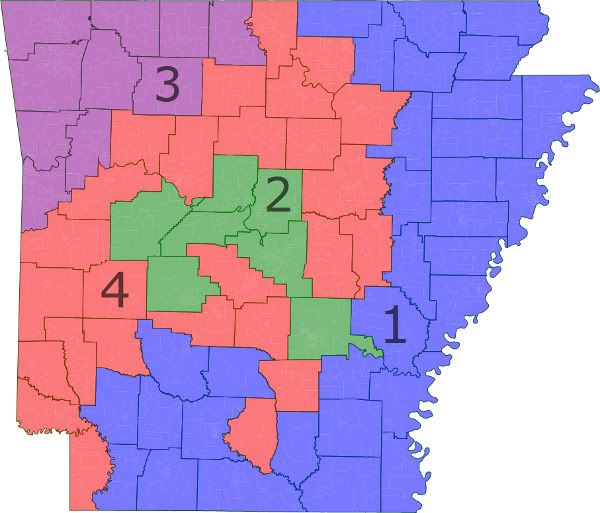 The 1st district retains the state's eastern border along the delta, but instead of venturing into northern and central Arkansas it now runs along most of the southern border and takes in some of the more Democratic parts of the old 4th district. This district is probably the slightly weaker of the two and is definitely moving away faster on the presidential level, but it should still be a very solid pick up.
The 2nd district drops some of the heavily Republican counties in the center of the state to add Pine Bluff and Hot Springs as well as a few counties further west of Little Rock. This district is now one that Obama won outright, if only by about 500 votes. This district would be very solid and should hold up better over the course of the decade given that it has a very slight D+ CPVI.
Each of the two Democratic districts is now much more favorable than either the old or new versions. Kerry and Gore won both of them which would have given each a D+ CPVI and even Blanche Lincoln's 46% was 9% better than she did statewide in either district which should give you an idea of Dems' floor here. I've also included the Lt. Gov and SOS races since they were narrow losses. Interestingly, the 1st would have been only the 2nd district to vote Gore-Kerry-McCain (the other being the old PA-12).
Both the 3rd and 4th district are pretty hopelessly Republican and although Mike Beebe almost certainly won the 4th in 2006 it would likely have a CPVI over R+20 after 2012. Here is an alternate version that looks more "compact" since the 4th no longer spans the state, but either way both districts are vote sinks.
The result is that Democrats would trade the 4th for the 1st and 2nd districts rather than lose all four.
Once precinct data is loaded into DRA and includes partisan averages I will do one of my crazy gerrymanders to see what sort of 2-2 and 3-1 maps could be drawn.